9 active listings

7.00
3 bids
Ended
Mar 29, 16:09 PST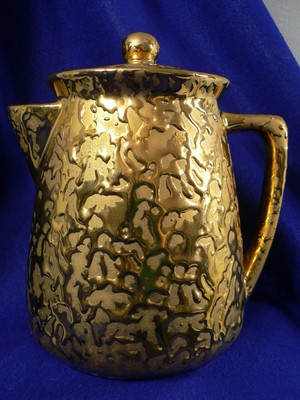 59.99
Buy It Now
or Best Offer

Featured Products
Capacity: 17 ounces
Type: Tea pot with warmer
Stainless steel infuser lid
Product Description
This Ovente glass teapot is equipped with a stainless steel infuser lid, to ensure that your tea stays potent and delicious. This teapot also features a heart flower shaped glass base that makes it a great way to enjoy your favorite tea.
STUNNING SURFACE: The hand polished and mirror-like surface will...
DESIGNED WITH YOU IN MIND: Not only does the heavy stainless steel...
SWAPPABLE HANDLES: Each teapot comes equipped with three different...
Product Description
REALLY, TRULY RELAX
 
From the time your alarm blares at the crack of dawn until you crawl back into bed each night, there's a constant buzz of unrelenting activity. No matter the day, there always seems to be deadlines due, errands to run, a gym membership to use, kids to pick up from school, dinner to cook, and household cleaning to complete. Isn't it time you take a second for you? 
 
When you use a stainless steel, built-to-last Minos teapot, you're giving yourself permission to finally exhale, relaxing into the moment and letting the little things in life roll off your shoulders. The steam coming off your cup from your Stainless Steel Teapot is complete heaven. And the renewed energy and focus you feel after unwinding is unparalleled.
 
GREAT SIZE TO SUIT YOUR MOOD 
 
The 500ml Stainless Steel Teapot is perfect for a tea party for two. (We recommend cuddling up with a great blanket, a novel you just can't bear to put down, and a piping hot cup of comforting peppermint tea.) The Minos teapot is a declaration to the world that you deserve to rest, restore, and relax.
McCoy Romanesque Swirl Vase
The McCoy Pottery Company produced this Romanesque Swirl Vase as part of their Roseville Floraline during the 1970's and 1980's. This cream colored vase.
Higher Ed Matters: Local students clean up at SWIC art show - Belleville News-Democrat
A number of local art students walked away from Southwestern Illinois College's Student Art Exhibition with awards. BELLEVILLE – Amanda Simon won a Krueger Pottery award for her ceramic piece, Balter. Tammy Charron won the SWIC Adjunct Faculty Union Award for her ink and photo transfer piece, "Shikendanz I. " Caleb Berg won a $50 Midwest Salute to the Arts Festival Committee 2-D Award and a President's Purchase Award for his acrylic painting,... " Alyssa Williams won a Kellerman Memorial Award for her ceramic piece, Wheel Thrown Teapot No. 1 and a Midwest Salute to the Arts Festival Committee 3-D Award for her ceramic piece, Wheel-thrown Teapot No. 2. Hannah Bernardini won a Kiwanis Club... " Kayanna Clark won a "Getting Ahead" Schmidt Pick Award for her sculpture, titled Alien Head. and Harold White won an Artisan Guild of Southern Illinois award for his 2-D piece, "Reach. CASEYVILLE – Kailey Kirkley won a Visual Arts Committee Award for her photograph, "No Scotch Tape. COLLINSVILLE – Jessica Curtis won a Visual Arts Committee Award for her untitled drawing. FREEBURG – Gabe Vines of Freeburg won a Krueger Pottery award for his wood and acrylic piece, It Do Me Bad. Chance Green won the The Noisivelvet Public Art Award and the $50 Artisan Guild of Southern Illinois 3-D Award for his sculpture, Crinoid. GRANITE CITY – Ann Willmore won the Doug and Darlene Eskra "Arete Award" for her an untitled piece. MASCOUTAH – Amanda DeBuysere won the Dean's Award for her photograph, "Untitled II. ". O'FALLON – Holly Michel won a Gateway East Artist Guild Award for her charcoal drawing, titled "Lucy. SHILOH – Ryan Kemp won one of two President's Purchase Awards for his colored pencil piece, "The Last time I Ask What's For Supper. SWANSEA – Lorraine Cange won a Kiwanis Club Award for her photograph, "Human Rituals" and Theresa Johnson won a Gateway East Artist Guild Award for her untitled photograph featuring a woman with sunglasses. TROY – Emily Russell won a Visual Arts Committee Award for her ceramic piece, Coiled Braided Pot. Two Southern Illinois University School of Dental Medicine students have been awarded $2,500 grants, respectively, from Delta Dental of Illinois. They received the assistance due to their commitment to improve oral health in Illinois. Sarah Tien, of Darien, and Ashley McNealy, of Alton, will receive the grants. They earned doctor of dental medicine degrees at commencement Saturday. "Sarah Tien and Ashley McNealy are both bright students and certainly deserving of this distinguished award from Delta Dental of Illinois," Bruce Rotter, dean of SIUE's Dental school, said. "Sarah, Ashley and all the graduates of the Class of 2015 are extremely capable and well trained dentists who will unquestionably have a positive impact on the communities they serve. Upon graduation, Tien plans to provide dental care to under-served populations. Through the grant program, Delta Dental of Illinois provides educational and financial support to two graduating students from the SIU SDM annually. The SIU School of Dental Medicine students manage approximately 35,000 patient visits each year at its patient clinics in Alton and East St. Louis. In addition, students offer oral health treatment, screenings and education to more than 10,000 people annually through a wide variety of off-campus community outreach events. Lindenwood University–Belleville will start the summer off with some sweet music starting later this month. Saturday June 27, 2015 – 7-9 p. m. – The Big Little Big Band. – This group of 11 Musicians brings to life the classic big band sounds – including music from Count Basie, Duke Ellington, Stan Keaton, and other big band sounds you are sure to enjoy. Saturday, August 22, 2015 – 7-9 p. m. - The Belleville Philharmonic Presents The Magical Music of Disney. Source: www.bnd.com
Latest News
Recipes
Books
Bing news feed
Directory
McCoy Pottery Brown Drip Teapot 1970's
446: McCoy Pottery Pinecone Teapot With Lid
Share on facebook Share on Twitter Share on Pinterest Share on Email
---